Charles III made his declaration to the Accession Council who signs his proclamation as king of Great Britain and Northern Ireland.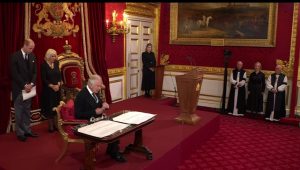 With the signature was officially put on, it confirms the oath has been taken.
At his historic first declaration, King Charles III said during his reign he will "strive to follow the inspiring example set by his mother Queen Elizabeth II. (As reported by Daisy Busel of The Royal Family Channel).
Congratulations…