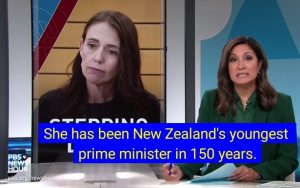 As broadcasted by PBS NewsHour: Lawmakers in New Zealand are negotiating over the country's next prime minister after Ms. Jacinda Ardern made a surprise announcement that she would step down before end of her second term.
From the footage video created by Nick Schifrin, we could follow on how the progress of Ms. Ardern' political career:
Ms. Ardern is well known for that emotion and openness. In 2019 when an Australian gunman killed 51 Muslim worshipers in two mosques during 'Friday prayer'.  She stood with Muslim community and against the shooter's white supremacy. Jacinda Ardern made strong statement that victims (Muslims) who have chosen to make New Zealand their home and they are us.  The person who has perpetuated this violence against us is not. In less than four weeks, Parliament passed a bill banning most semiautomatic rifles and high-capacity magazine. She even emphasized that every semiautomatic weapon used in that terrorist attack on Friday to be banned.
Her post tenure was marked by crises of COVID. Her government shut the borders but could resume normal life earlier than most countries. However, this result seems not enough to hold Arden's party from slipping in the polls.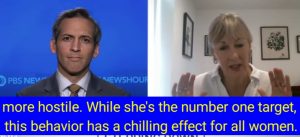 To enlighten the current perspective Nick Schifrin has interviewed :
1. Helen Clark who was New Zealand PM (1999 – 2008), who comes from the same party with Ms. Arden. She is the co-led an independent review of COVID's origins and countries' responses. According to her it may because of most public thought that the effective responses to the pandemic in the world, and many people owe their lives to let."
2. Dr. Suze Wilson who is a senior lecturer at New Zealand's Massey University: "The cost-of-living pressures are very real for people and they're looking for someone to blame. And of course, they are going to blame the government"
Now what could we guess the reason behind of her resignation?
Is it because of Covid' effect? It means COVID is principal driver for public to be difficult in accepting the reality.  Especially with the fact of losing their beloved ones not to mention the living pressures which is now getting harder and harder? Or like Ms. Ardern said at last: it may now a good time for a break; for both her and her fiancé to finally have time to get married. Congratulations…