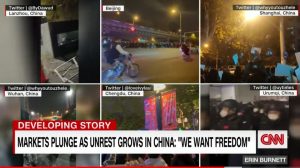 The unprecedented protest was exploited over President Xi Jin Ping' strict zero-covid policies, which resulted in extended strict lockdowns across the country.
As reported by #democracynow.org: The protests were triggered by a deadly fire last Thursday, 27 November 2022 at an apartment building in Urumqi, the capital of Xinjiang, where local Covid restrictions reportedly prevented firefighters from reaching the trapped residents which caused ten victims. This comes as hundreds of workers at the world's largest iPhone factory, Foxconn, clashed last week with police over restriction that have forced many workers to live at the factory "China now for three years has seen a level of lockdown that is simply inconceivable," says Cornell labor scholar Eli Friedman.
Ho Fung Hung – Professor of Political Economy Johns Hopkins University said: "It's surprising in a sense that compared to protests in China in 1990s and 2000s, we see a lot of protests, but many of these protests restrain themselves by targeting local officials and trying to express their loyalty to the center but this time you see slogans chanting like "Xi Jinping step down" and some called for freedom of expressions. Is it the sign Chinese middle class has an inner transformation?
Meanwhile China remains the only major economy to still have Covid restrictions.
Let's leave history to testify what really happening is.