Yesterday, 4 October 2022, hurricane 'Orlene" making landfall in Mexico. It seems natural disaster' spirit still awakes, he continues his journey to Asia with pouring extreme rainfall in Jakarta, Indonesia; Bangkok, Thailand;  and Vietnam leaving catastrophic flood.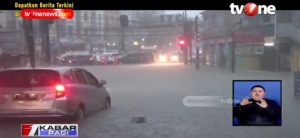 From footage videos which were distributed in YouTube by some mainstream medias; it looks happening's pattern at three different places in Asia are quite similar.  It is mainly roads changed becomes rivers and even to an ocean.
As mentioned by UN Chief – António Guterres, starting Monday, 03 October 2022, Pre-COP 27 meetings starts.  It is at same common expectation that coming COP 27 Summit on 13-14 November 2022, in Sharm El Sheikh, Egypt to be fruitful in leveraging expertise and experience by bringing together public and private sector leaders from across the world. This meeting is intended to facilitate necessary collaboration in innovation, investments, and policies to achieve ambitious climate targets specially in domain of climate solutions, investments, and legislation.
However, climate change' effect and impact is real and now needs action immediately. Financial consequences turn bigger as well as catastrophe theme turns wilder at every happening. As well shown in what happening of Florida and Carolinas. A proof said Carolinas' flood has been turned out like ocean and leaving larger impact on human, environment and economy.
Currently civil society arrives to a conclusion that drainage systems are not sufficient or at wrong design to keep up water's capacity. Therefore, it is highly expected all agreed adaptation pledges to be activated in action immediately for concrete solutions based on accurate technical specification.
The narrative speech of UN Chief is at https://youtu.be/gxZeZQiDu7M