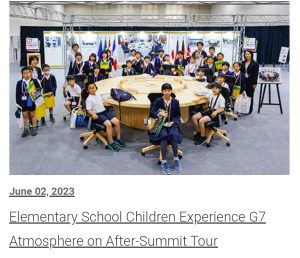 "The city of Hiroshima is a testament to the human spirit. The courage and resilience of the hibakusha in pushing for a world free of nuclear weapons. Hiroshima is also a global symbol of the tragic consequence where nations fail to work together and settle their differences peacefully in the multipolar worlds as geopolitical division grows".
At the official address, Mr. Guterres specified in detail the economic picture where rich countries cannot ignore the fact that there is half most countries are suffering the crisis mainly the crashing economic impact of covid 19 pandemic, the climate crisis, Russia's invasion of Ukraine, the sustainable levels of debt, rising interest rates and inflation are devasting developing economies, poverty and hunger are rising, and development is sinking. He also mentioned three dimensions of problems which are: moral, power related and practical.
First, morality, Mr. Guterres pointed out the global economic and financial frameworks which were managed in a systemic and unjust bias.  The recovery was rated unfair and unbalanced. Basically, it's in favor of rich countries. The approach has naturally generated great frustration to the developing world's access to covid-19 vaccines. The fact said, the rich countries recovered from covid 19 economic impacts pandemic using expansionary monetary and fiscal policies. Basically, they printed money and spent their way out of trouble. Whilst the developing countries many with substantial debts were unable to do. This practice was done according to the rules but from the moral point of view there is something fundamentally wrong with the rules themselves. Around the world 52 countries are in-depth distress or face extremely expensive market financing.  Middle income countries including many small island development states with few exceptions do not qualify for concessional funding and they have no access to debt relief.
Second, power dimension: It's time to reform both the security council and the Bretton Woods institutions. It is essentially a power redistribution. In current world's realties the retinal system and the security council were based on a reflection of 1945 power relations.
Third, practical: The global financial architecture is dysfunctional and unfair in the face of economic shocks.  At this present with fair global rules, more can and must be done to support developing countries.
It has been proposed that the stimulus relief to be scaled up long term and contingency financing of multilateral development banks to work together and change their business models and approach to risk. They could massively leverage private finance for developing countries at reasonable costs reallocating SDR as Japan has done and channeling them through multilateral development banks would have a multiplying effect on finance for sustainable development.  Innovative financial tools could enable swaps that convert debt into investment in climate adaptation and the least goes at the same time G7 countries are central to climate.
The fact shows we are heading for a temperature rise of 2.8 degrees at the end of this century at the scenario of present policies. The next five years are likely to be the hottest on records. Climate action is working; however, it is clearly off the acceleration agenda towards the target of reaching 'Net Zero' as close as to 2040 for G7 and for the emerging economies as close as 2050.
Our climate solidarity pact to call the G7 countries mobilizing the financial and economies in accelerating decarbonization to stay within the 1.5-degree limit of global heating, and this requires faster timelines to phase out fossil fuels a ramp up near renewables. It means putting a price on carbon and ending fossil fuel subsidies.
I call the G7 countries to phase out cooling completely by 2030. At the same time, we need climate justice.  The climate crisis is suffering most. We must ramp up adaptation and warning systems to help communities on the front lines.  Fifty percent of climate finance for developing countries must go to adaptation. It is now the time for developed countries to commit to the promise of 100 billion dollars per year as "loss and damage fund" as agreed in COP 27.
Though, there is no magic pill in critical medication, the majority put new hope at the arrival of Ajay Banga who officially takes over as head of the World Bank as of 02 June 2023, just months after David Malpass announced his early exit from the institution. We take a deep dive into his "meteoric" rise through the global corporate ranks and look at what's expected from him in such complicated times.
For Banga, that means "he may be visited by the ghost of lending past" as heavily indebted nations are less able to attract the private capital they need for development. "We know we need to get the private sector to be a constructive player in our mission," he said in April, just before the World Bank Spring Meetings kicked off.
Related links:
https://www.devex.com/news/devex-newswire-banga-takes-charge-of-modernizing-the-world-bank-105651
http://www.mofa.go.jp/policy/un/disarmament/arms/testimony_of_hibakusha/index.html