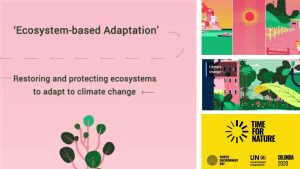 On the momentous occasion of World Environment Day's 50th anniversary, I am honored to announce that Canada will be hosting the GEF Assembly in Vancouver. Canada believes in the power of collaboration and inclusivity as the only way to build a more resilient future for everyone. Protecting our world's nature, rivers, lakes, oceans, and wildlife will ensure a healthy planet and healthy people. We look forward to working with international partners, Indigenous Peoples, and youth to find innovative solutions to our shared environmental challenges and provide support to developing countries in their climate adaptation efforts."
Canada is a founding member of the GEF—Canada's primary mechanism for helping developing countries address climate change. At COP15, Canada announced it would provide $219 million between 2022 and 2026 to the GEF's eighth replenishment to support developing countries' efforts to address global environmental challenges and meet their commitments under international environmental conventions. Canada also committed $350 million in new and additional funding to support developing countries in conserving biodiversity and to support the implementation of the Global Biodiversity Framework.
In June 2021, Canada also doubled its climate finance commitment to $5.3 billion over 5 years (2021 to 2026) to support developing countries' transition to low-carbon, climate-resilient, nature-positive, and inclusive sustainable development.
This conference will serve as a platform to unite and inspire global leaders, experts and stakeholders. It provides an important opportunity for Canada to build on the momentum gained at COP15, where a historic agreement was reached to safeguard nature and halt and reverse biodiversity loss. Together, we will explore strategies, share best practices, and forge partnerships to tackle the pressing environmental challenges we face and to promote the use of nature-based solutions in support of the poorest and most vulnerable countries impacted by climate change. By harnessing our collective strengths and empowering diverse voices, we can make a profound and lasting impact on our planet" confirmed by Steven Guilbeault, Minister of Environment and Climate Change Canada
We are delighted to be holding the Seventh GEF Assembly in Canada, whose steady leadership in environmental diplomacy has yielded enormous benefits around the world. This gathering of the GEF's member governments and diverse partners gives us a unique chance to build on recent breakthroughs, including long-sought agreements on biodiversity and the high seas, and ensure that the urgent environmental challenges we face are addressed in an inclusive and integrated way" added by Carlos Manuel Rodríguez, CEO and Chairperson of the Global Environment Facility
Related links:
Full Press Release – dated 05 June 2023
https://www.thegef.org/newsroom/press-releases/canada-host-seventh-assembly-global-environment-facility?utm_source=Master+List&utm_campaign=faf8a00c89-seventh+assembly+first+pr&utm_medium=email&utm_term=0_388f7ef156-faf8a00c89-222487242